Click On Image
For Full Size Image
Size
Image Description
Contributed
By
58k
Moctobi (ATF-105) in World War II dark gray paint scheme circa April 1946
US Navy photo
Norman Davis via Mike Turner
91k
Moctobi (ATF-105) moored pierside at Adak, AK., spring 1962.
Photo by Dennis Colton USS Moctobi
99k
Moctobi (ATF-105) bridge and wheelhouse area, 1962.
Photo by Dennis Colton USS Moctobi
91k
Moctobi (ATF-105) fantail area. Note; tow in distance, 1962.
Photo by Dennis Colton USS Moctobi
109k
Moctobi (ATF-105) with hazegray paint scheme circa June 1946
Norman Davis via Mike Turner
42k
Moctobi (ATF-105) at Alpha Dock, Naval Station Pearl Harbor, HI, 1966
Photo by Ralph Carpenter via Mike Turner
33k
Moctobi (ATF-105) undergoing salvage drills
Photo by Joe Siesal, submitted
to NAFTS
(National Association
of Fleet Tug Sailors)
154k
Moctobi (ATF-105) underway, circa late 1960s to early 1970s
Steve Bingham via Mike Turner
89k
Moctobi (ATF-105) underway circa 1979-1982
Jim McLean via Mike Turner
79k
Moctobi (ATF-105) underway, date and place unknown.
US Navy photo.
Wendell Royce McLaughlin Jr
75k
Ex-Moctobi (ATF-105) and ex-Quapaw (ATF-110), Pier 9, former Naval Station Long Beach, CA., circa 1993
Photo by Art Ramirez USN Ret via Richard Tetrault
Contributed by Mike Turner
143k
Ex-Moctobi (ATF 105) moored to port of the ex-Quapaw (ATF-110), date unknown, Sausalito, CA.
Roger Herbst
85k
Ex-Moctobi (ATF 105) and ex-Quapaw (ATF-110) moored outboard and astern of the old wooden hulled West Coast passenger and freight steamer Wapama, date unknown, Sausalito, CA.
Roger Herbst
---
This Website wishes to acknowlege and thank Nav Source in allowing us to utilize these pictures for this website. GO NAVY.

---
Mactobi
An American Indian tribe of Arizona.


Specifications:
Displacement 1,240 t.(lt) 1,589 t.(fl)
Length 205'
Beam 38' 6"
Draft 15' 4"
Speed 16.5 kts.
Complement 85
Armament

one single 3"/50 DP gun mount
two twin 40mm AA gun mounts
two single 20mm AA gun mounts
Propulsion diesel-electric, four Alco diesel main engines driving four General Electric generators and three General Motors 3-268A auxiliary services engines, single screw
Moctobi (ATF‑105) was laid down as AT‑105 by Charleston Shipbuilding
& Drydock Co., Charleston, S.C., 7 October 1943; launched 25 March 1944;
sponsored by Mrs. Wade C. Harrison; reclassified ATF‑105 on 15 May 1944;
and commissioned at Charleston 25 July 1944, Lt. Troy Braesher in command.


After shakedown in Chesapeake Bay, Moctobi wasassigned to duty in the Pacific
with ComServPac. Departing Norfolk 1 September, she stopped at New Orleans
where she took in tow a section of ABSD‑3; thence, she sailed
for the Marshalls 8 September. She reached Eniwetok via Majuro 21 November
and steamed to Hawaii, arriving Pearl Harbor the 29th. On 12 December
she sailed in convoy to Eniwetok with another ABSD section.
After touching at Eniwetok the 29th, she departed 2 January 1945 for Guam.
She dropped off ABD‑16 at Guam 9 January; sailed for Ulithi the same day;
and reached that important advance base two days later.


Assigned to Service Squadron 10, Moctobi operated out of Ulithi until the end
of the war in the Pacific. There she carried out the harbor duties necessary
to prepare ships of the hard‑hitting task forces for their strikes against
the enemy. During the Iwo Jima campaign she served on a standby basis
with the Support Force and at the conclusion of the campaign
towed Marl (IX‑160) from Saipan to Ulithi.


On 30 March 1945 Moctobi sailed with units of the fast tanker fleet
and joined the Logistic Support Group off Okinawa. During the next 47 days
she provided at sea logistics support for ships of the 5th Fleet,
thence returned to Ulithi 12 to 16 May. After completing a run to Leyte Gulf
and back, she departed Ulithi 3 July with other ATFs and joined the
Logistics Support Group for support of the 3d Fleet Bombardment Force.
She served at sea during the closing weeks of the war and arrived Yokosuka, Japan,
after the cessation of hostilities. She began supporting occupation operations
29 August and aided in the landing of initial occupation forces in the Tokyo area.
She towed American and Japanese ships and supported demolition operations
of Jap suicide boats and submarines along the eastern coast of Honshu.


Moctobi sailed for Okinawa 14 October and for more than 2 months aided in
salvaging and refloating many ships damaged by the recent vicious typhoons.
On Christmas Eve she sailed for Pearl Harbor with ARD‑29 in tow.
Upon arriving, she reported to ComServPac for continued duty out of Pearl Harbor.
She returned to the west coast in May 1946 and later that year deployed
once again to the Far East. She operated in the Philippines until June 1947,
thence sailed to the United States. She began preinactivation overhaul at
San Francisco 1 December and decommissioned 30 June 1948.
Assigned to the Pacific Reserve Fleet 27 August, she was berthed at Alameda, Calif.


On 8 November 1950 Moctobi recommissioned at San Francisco, Lt. John M. Geortner
in command. Following refresher training off the west coast, Moctobi steamed
to the Far East. Between February and November 1951 she was underway
almost constantly, touching Midway, Eniwetok, Kwajalein, Guam, Subic Bay, Sasebo,
Yokosuka. Inchon, Pusan, Okinawa, Taiwan, and Taechong Do, Korea.
In September she conducted salvage operations on the ROK PF‑62 off Abru Somu
Island, North Korea. She towed the damaged ship to Pusan thence to Yokosuka
for repairs. She returned to Pearl Harbor in December for overhaul,
thence between April and September 1952 made several towing trips to
Johnson Island and the Marshalls.


In November Moctobi steamed to the northern Pacific for duty in the Aleutians.
During the next several months she carried out towing and SAR duty from Dutch Harbor
to Attu. She returned to Pearl Harbor in June 1953. Following operations between
Hawaii and the west coast, she made another WestPac deployment in March 1954.
Tug and towing assignments sent her from Japan to the Philippines and from Korea
to French Indochina. In September she steamed via Pearl Harbor to San Francisco,
and during the next year she carried out tows along the west coast
and to Pearl Harbor.


Moctobi maintained a busy tug and towing schedule throughout the Pacific
for more than a decade. Although homeported in Pearl Harbor, she ranged the Pacific
from the west coast to the Far East while supporting the might of American seapower
in the Pacific. She carried out towing duties to American bases throughout
the Pacific and when requested she provided emergency at sea tows for ships in distress.
In addition she carried out SAR patrols and undertook special operations
of a classified nature for the Atomic Energy Commission.


Following a 3‑month deployment to the Aleutians in mid‑1963,
Moctobi steamed to Seattle, Wash., 15 October to prepare for an unusual towing
assignment. On 28 October she departed for Honolulu, Hawaii, with the four-masted
sailing ship Falls of Clyde (see DANFS, vol. 111, p. 733) in tow. During the trip,
which took 21 days, Moctobi encountered several severe storms with 40‑
not winds and 20‑foot seas. However, she delivered the
wroughtiron‑hulled ship, safely to tugs off Honolulu 21 November.


Since 1963 Moctobi has continued to carry out tug and towing assignments,
as well as additional duties given to this busy ATF, with skill and dispatch.
Whether operating in the waters of the north Pacific or in the Far East, she has
supported the mighty ships of the U.S. Navy in the continuing struggle to maintain
the freedom of the seas for the forces of freedom. Into 1969 she continues to range
the length and breadth of the Pacific while operating out of Pearl Harbor.


---
Falls of Clyde
The Falls of Clyde is the only surviving iron-hulled, four-masted sailing ship,
and the only surviving sail-driven oil-tanker, in the world.
She is presently a museum ship in Honolulu, Hawaii.


She was built in 1878 by Russell and Company in Port Glasgow, Scotland,
launched as the first of six iron-hulled four-masted ships built for Wright
and Breakenridge's "Falls Line." She was named after the Falls of Clyde,
a waterfall up the River Clyde. She was built to the highest standard -
Lloyd's Register A-1 - for general worldwide trade. Her maiden voyage took her
to Karachi, and her first six years were spent engaged in the India trade.
She then became a tramp pursuing general cargo such as lumber, jute, cement,
and wheat from ports in Australia, California, India, New Zealand,
and the British Isles.


After twenty-one years under the Union Jack, Falls of Clyde was purchased
for US$25,000 by Captain William Matson of the Matson Navigation Company,
taken to Honolulu, Hawaii in 1899, and registered under the Hawaiian flag.
When the Republic of Hawaii was annexed by the United States in 1900,
it took a special act of the United States Congress to secure the foreign-built
ship the right to fly the Stars and Stripes.


To economize on crew, Matson rigged Falls of Clyde down as a barque,
replacing the five yards on her aft mast with two easier-managed fore-and-aft sails.
At the same time, he added a deckhouse, charthouse, and rearranged
the after quarters to accommodate paying passengers.
From 1899 to 1907, she made over sixty voyages between Hilo, Hawaii,
and San Francisco, California. She carried general merchandise from San Francisco
and sugar from Hawaii, and passengers both ways. She developed a reputation
as a handy, fast, and commodious vessel; her voyages averaged 17 days each way.


In 1907, the Associated Oil Company (which later became Tidewater Oil) bought
Falls of Clyde and converted her to a bulk tanker with a capacity of 19,000 barrels
(three million liters, 800,000 gallons). In this configuration she sailed
from Gaviota, California, with kerosene, which she discharged in Honolulu
at the Oahu Railway and Land Company's Pier 16. On her return voyages,
she carried bulk molasses to California, where it was used for cattle feed.


In 1927, the bark was sold to the General Petroleum Company,
her masts were cut down, and she served as a floating fuel depot
in Alaska until 1959. She was sold to William Mitchell, who towed her to Seattle,
Washington, intending to sell her to a preservation group. Mitchell's plan fell
through and subsequent efforts by Karl Kortum, director of the San Francisco
Maritime Museum, and Fred Klebingat, who had sailed in her as chief mate in 1915,
to place her in Long Beach, California, or Los Angeles, California, were similarly
disappointed.


In 1963, the bank holding the mortgage on Falls of Clyde decided to sell her
to be sunk as part of a breakwater at Vancouver, British Columbia.
Kortum and Klebingat aroused interest in the ship in Hawaii, and within days of the
scheduled scuttling, raised funds to buy the ship. At the end of October 1963,
Falls of Clyde was taken under tow by fleet tug USS Moctobi.
In honor of their historic tow, the crew of the tug kept their logs in verse,
the first entry reading:


As we sail across the Set
The Falls of Clyde keeps us company
Moctobi's engines grit and grind
To keep old Clyde close behind.
On 18 November, they arrived in Honolulu, recording


Today, hauling cargo to Hawaii was seen a proud white ship.
We couldn't help remembering Clyde and all her similar trips.
Yes this one is quite differenct than those of earlier times,
When she carried black oil and molasses to many different climes
Today the cargo is memories and sea stories yet untold
Which when moored tomorrow may be brought up from the hold.
Tomorrow at Honolulu her final trip will end,
And we will bid aloha to our gallant seagoing friend.
The crew was concerned about the reaction these verses might receive from Commander,
Service Force, Pacific Fleet. Upon their arrival at Honolulu they received a message
reading:


Your towing debut is finally Pau
The Clyde's at home forever now.
Your sitreps were noted with interest each day
As Moctobi pulled the long, rough way.
This grand old lady is destined to be
A memorable relic for all Hawaii
By your fine effort the task is won.
Welcome home, and to all a well done.
-- VADM Roy Johnson, Deputy, CINCPACFLT
In May 1964, on behalf of his crew, the commanding officer of Moctobi,
Lieutenant Leo Connolly, accepted the Distinguished Service Award
for Community Relations from the Chamber of Commerce of Honolulu.


Falls of Clyde was given to the Bernice P. Bishop Museum.
She opened to the public in 1968. Her restoration as a full-rigged ship
was assisted by the grandson of the original builder, Sir William Lithgow,
whose Glasgow shipyard donated masts and other fittings. In 1973 she was
entered into the National Register of Historic Places. In mid-2004,
Falls of Clyde is still located at Pier 7, Honolulu Harbor,
part of the Hawaii Maritime Center.

---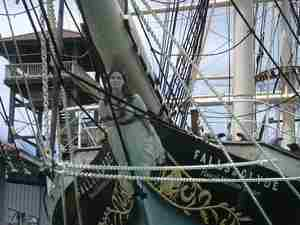 &nbsp &nbsp
---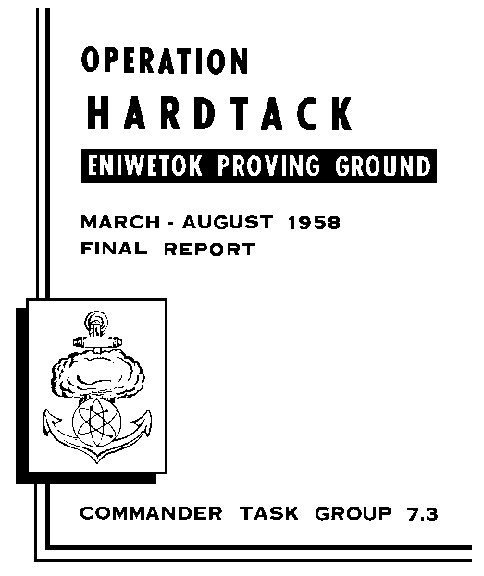 Ships of Joint Task Force (JTF) 7.3 - Operation Hardtack 1
NAME
PERIOD IN EPG
REMARKS
USS BOXER (CVS-21)
FEB 58-AUG 58
FLAGSHIP
USS COMSTOCK (LSD-19)
DEC 57-APR 58
USS TORTUGA (LSD-26)
FEB 58-APR 58
USS BELLE GROVE (LSD-2)
APR 58-AUG 58
USS MONTICELLO (LSD-35)
APR 58-AUG 58
T-LST 618
SEP 47-DEC 58
T-LST 664
SEP 57-OCT 58
USS RENVILLE (APA-227)
APR 58-MAY 58
USS MAGOFFIN (APA-1990
MAY 58-JUN 58
USS NAVARRO (APA-215)
JUL 58-AUG 58
USS FLOYD B. PARKS (DD-884)
MAR 58-MAY 58
USS JOHN R. CRAIG (DD-885)
MAR 58-MAY 58
USS ORLECK (DD-886)
MAR 58-MAY 58
USS PERKINS (DDR-877)
MAR 58-MAY 58
USS MANSFIELD (DD-728)
MAY 58-AUG 58
USS COLLETT (DD-730)
MAY 58-AUG 58
USS DEHAVEN (DD-727)
MAY 58-AUG 58
USS BENNER (DDR-807)
MAY 58-AUG 58
USS EPPERSON (DDE-719)
AUG 58-AUG 58
USS CHANTICLEER (ASR-7)
APR 58-MAY 58
USS GRASP (ARS-24)
MAR 58-JUN 58
USS BOLSTER (ARS-38)
MAR 58-JUN 58
USS MOCTOBI (ATF-105)
FEB 58-JUN 58
USS ARIKARA (ATF-98)
MAR 58-AUG 58
USS TAKELMA (ATF-113)
MAR 58-AUG 58
USS MUNSEE (ATF-107)
MAR 58-JUN 58
USS CHOWANOC (ATF-100)
MAR 58-JUN 58
USS CREE (ATF-84)
APR 58-AUG 58
USS HOOPER ISLAND (ARG-17)
APR 58-JUN 58
USS CACAPON (AO-52)
MAR 58-AUG 58
USS LANSING (DER-388)
MAY 58-JUN 58
USS JOYCE (DER-317)
MAY 58-JUN 58
USS SILVERSTEIN (DE-534)
SEP 58-SEP 58
3 Weeks period.
USS REHOBOTH (AGS-50)
APR 58-JUN 58
USS LAWRENCE CTY (LST-887)
MAY 58-JUN 58
USS AINSWORTH (T-AP-181)
APR 58-JUL 58
USS BONITA (SSK-3)
APR 58-JUN 58
USS KARIN (AF-33)
MAR 58-AUG 58
Operated bwtween Pearl
USS MERAPI (AF-38)
MAR 58-AUG 58
Harbor and EPG.
USS COGSWELL (DD-651)
JUL 58-AUG 58
USS SAFEGUARD (ARS-25)
JUL 58-AUG 58
USS HITCHITI (ATF-103)
JUL 58-AUG 58
Mission Basis.
USS TILLAMAMOOK (ATF-102)
JUL 58-AUG 58
Source:
Title: OPERATION HARDTACK ENIWETOK PROVING GROUND MARCH-AUGUST 1958
FINAL REPORT COMMANDER TASK GROUP 7.3 (DELETED)
Originating Organization: JOINT TASK FORCE SEVEN
Location of Document: DOE/NV Coordination and Information Center
P.O. Box 98521
Las Vegas, NV 89193-8521
Phone:(702)295-1628
Fax: (702)295-0877
EMail: cic@nv.doe.gov
Document Number: DASA-A-61-521; DASAA61521
Document Type: Report
Document Date: 11/03/1958
Declassification Status: SANITIZED DOCUMENT AVAILABLE
Document Pages: 0272
Accession Number: NV0116875
Opennet Entry Date: 02/17/1995

---
Allied Ships Present in Tokyo Bay During the Surrender Ceremony, 2 September 1945


The ships in the list below are listed alphabetically within each type.
US Navy ships have hull numbers and Allied ships have pendant numbers.
The following abbreviations are used for military ships: HMS=British,
HMAS=Australian, HMNZS=New Zealand, USS=American.


Source: Commander in Chief, U.S. Pacific Fleet and Pacific Ocean Areas
(CINCPAC/CINCPOA) A16-3/FF12 Serial 0395, 11 February 1946:
Report of Surrender and Occupation of Japan.
Battleships (BB)
USS Colorado (BB-45)
USS Mississippi (BB-41)
HMS Duke of York (17)
USS Missouri (BB-63)
USS Idaho (BB-42)
USS New Mexico (BB-40)
USS Iowa (BB-61)
USS South Dakota (BB-57)
HMS King George V (41)
USS West Virginia (BB-48)


Small Aircraft Carriers (CVL)
USS Bataan (CVL-29)
USS Cowpens (CVL-25)


Escort Carriers (CVE)
HMS Ruler (D.72)
HMS Speaker (D.90)
Salamaua


Heavy Cruisers (CA)
USS Boston (CA-69)
USS St. Paul (CA-73)
USS Chicago (CA-136)
HMAS Shropshire (96)
USS Quincy (CA-71)


Light Cruisers (CL)
USS Detroit (CL-8)
USS Pasadena (CL-65)
HMNZS Gambia (48)
USS San Diego (CL-53)
HMAS Hobart (I.63)
USS San Juan (CL-54)
HMS Newfoundland (59)
USS Springfield (CL-66)
USS Oakland (CL-95)
USS Wilkes-Barre (CL-103)


Destroyers (DD)
USS Ault (DD-698)
USS Mayo (DD-422)
USS Benham (DD-796)
HMAS Napier (G.97)
USS Blue (DD-744)
HMAS Nizam (G.38)
USS Buchanon (DD-484)
USS Nicholas (DD-449)
USS Caperton (DD-650)
USS Perkins (DD-877)
USS Charles F. Hughes (DD-428)
HMS Quality (G.62)
USS Clarence K. Bronson (DD-668)
USS Robert K. Huntington (DD-781)
USS Cogswell (DD-651)
USS Southerland (DD-743)
USS Colahan (DD-658)
USS Stockham (DD-683)
USS Cotten (DD-669)
USS Taylor (DD-468)
USS Cushing (DD-797)
HMS Teazer (R.23)
USS De Haven (DD-727)
HMS Tenacious (R.45)
USS Dortch (DD-670)
HMS Terpsichore (R.33)
USS Frank Knox (DD-742)
USS Twining (DD-540)
USS Gatling (DD-671)
USS Uhlmann (DD-687)
USS Halsey Powell (DD-686)
USS Wadleigh (DD-689)
USS Healy (DD-672)
HMS Wager (R.98)
USS Hilary P. Jones (DD-427)
USS Wallace L. Lind (DD-703)
USS Ingersoll (DD-652)
HMAS Warramunga (I.44)
USS Kalk (DD-611)
USS Wedderburn (DD-684)
USS Knapp (DD-653)
HMS Whelp (R.37)
USS Lansdowne (DD-468)
HMS Wizard (R.72)
USS Lardner (DD-487)
USS Wren (DD-568)
USS Madison (DD-425)
USS Yarnell (DD-541)


Destroyer Escorts (DE)
USS Goss (DE-444)
USS Ulvert M. Moore (DE-442)
USS Kendall C. Campbell (DE-443)
USS Waterman (DE-740)
USS Lyman (DE-302)
USS Weaver (DE-741)
USS Major (DE-796)
USS William Seiverling (DE-441)
USS Roberts (DE-749)


Frigates
HMS Derg (K.257)
HMAS Gascoyne (K.354)
HMS Woodcock (U-90)


Sloops
HMS Crane (U.23)
HMS Whimbrel (U.29)


Light Mine layer (DM)
USS Gwin (DM-33)
USS Thomas E. Fraser (DM-24)


Mine Sweeper, High Speed (DMS)
USS Ellyson (DMS-19)
USS Hopkins (DMS-13)
USS Fitch (DMS-25)
USS Jeffers (DMS-27)
USS Gherardi (DMS-30)
USS Macomb (DMS-23)
USS Hambleton (DMS-20)


Submarines (SS)
USS Archerfish (SS-311)
USS Pilotfish (SS-386)
USS Cavalla (SS-244)
USS Razorback (SS-394)
USS Gato (SS-212)
USS Runner (SS-476)
USS Haddo (SS-255)
USS Sea Cat (SS-399)
USS Hake (SS-256)
USS Segundo (SS-398)
USS Muskallunge (SS-262)
USS Tigrone (SS-419)


Submarine Chasers (PC)
*Numbered ships given names in 1956.
PC-466 [USS Carmil]*
PCE(R)-849 [USS Somersworth]*
PCE-877 [USS Havre]*
PCE(R)-850 [USS Fairview]*
PCE(R)-848


Motor Gunboat (PGM)
PGM-16
PGM-32
PGM-26


Minesweeper (AM)
HMAS Ballarat (K.34)
USS Pochard (AM-375)
HMAS Cessnock (J.175)
USS Revenge (AM-110)
HMAS Ipswich (J.186)
USS Token (AM-126)
USS Pheasant (AM-61)
USS Tumult (AM-127)
HMAS Pirie (J.189)


Motor Mine Sweeper (YMS)
*Numbered ships named and reclassified in 1947
YMS-177
YMS-390
YMS-268
YMS-415
YMS-276
YMS-426
YMS-343
YMS-441 [USS Pelican (AMS-32)]*
YMS-362 [USS Hawk (AMS-17)]*
YMS-461 [USS Swallow (AMS-36)]*
YMS-371 [USS Hornbill (AMS-19)]* YMS-467


Auxiliary Mine Layer (ACM)
USS Picket (ACM-8)


Amphibious Force Flagship (AGC)
USS Ancon (AGC-4)
USS Teton (AGC-14)
USS Mount Olympus (AGC-8)


High Speed Transport (APD)
USS Barr (APD-39)
USS Pavlic (APD-70)
USS Burke (APD-65)
USS Reeves (APD-52)
USS Gosselin APD-126)
USS Runels (APD-85)
USS Hollis APD-86)
USS Sims (APD-50)
USS Horace A. Bass APD-124)
USS Wantuck (APD-125)
USS John Q. Roberts(APD-94)
USS William M. Pattison (APD-104)


Tank Landing Ship (LST)
*Numbered ships named in 1955.
LST-567
LST-789
LST-648
LST-846 [USS Jennings County]*
LST-717
LST-1083 [USS Plumas County]*
LST-718
LST-1139


Landing Ship, Dock (LSD)
USS Catamount (LSD-17)
USS Shadwell (LSD-15)


Landing Craft, Infantry (LCI)
LCI(L)-438
LCI(L)-469
LCI(L)-441
LCI(L)-726
LCI(L)-450
LCI(L)-752
LCI(L)-457
LCI(L)-798
LCI(L)-458


Medium Landing Ship (LSM)
LSM-13
LSM-290
LSM-15
LSM-362
LSM-71
LSM-368
LSM-101
LSM-371
LSM-208
LSM-419
LSM-252
LSM-488 LSM-284
Landing Ship, Vehicle (LSV)
USS Monitor (LSV-5)
USS Ozark (LSV-2)


Attack Transport (APA)
USS Bosque (APA-135)
USS Highlands (APA-119)
USS Botetourt (APA-136)
USS Lavaca (APA 180)
USS Briscoe (APA-65)
) USS Lenawee (APA-195)
USS Cecil (APA-96)
USS Mellette (APA-156)
USS Clearfield (APA-142)
USS Missoula (APA-211)
USS Cullman (APA-78)
USS Rutland (APA-192)
USS Darke (APA-159)
USS St. Mary's (APA-126)
USS Dauphin (APA-97
USS Sherburne (APA-205)
USS Deuel (APA-160)
USS Sheridan (APA-51)
USS Dickens (APA-161)
USS Talladega (APA-208)


USS Hansford (APA-106
Transport (AP)
USS General Sturgis (AP-137)


Attack Cargo Ship (AKA)
USS Libra (AKA-12)
USS Todd (AKA-71)
USS Medea (AKA-31)
USS Tolland (AKA-64)
USS Pamina (AKA-34)
USS Whiteside (AKA-90)
USS Sirona (AKA-43)
USS Yancy (AKA-93)


USS Skagit (AKA-105)
Cargo Ship (AK)
USS Lesuth (AK-125)


Civilian Cargo Ships
St. Lawrence Victory (US)
Winthrop Victory (US)


Stores Issue Ship (AKS)
USS Cybele (AKS-10)


Repair Ship (AR)
USS Delta (AR-9)


Landing Craft Repair Ship (ARL)
USS Patroclus (ARL-19)


Oiler (AO)
USS Chiwawa (AO-68)
USS Niobrara (AO-72)
USS Mascoma (AO-83)
USS Tamalpais (AO-96)


USS Neches (AO-47)
Civilian Oilers
Carelia (British)
Fort Wrangell (British
City of Dieppe (British)
Wave King (British)
Dingledale (British)


Gasoline Tanker (AOG)
USS Genesee (AOG-8)


Destroyer Tender (AD)
USS Piedmont (AD-17)


Hospital Ship (AH)
USS Benevolence (AH-13)
HMHS Tjitjalengka (Dutch)
Marigold (U.S. Army)


Seaplane Tender (AV)
USS Cumberland Sound (AV-17)
USS Hamlin (AV-15)


Small Seaplane Tender (AVP)
USS Gardiners Bay (AVP-39)
USS Suisun (AVP-53)
USS Mackinac (AVP-13)


Submarine Tender (AS)
USS Proteus (AS-19)


Submarine Rescue Ship (ASR)
USS Greenlet (ASR-10)


Fleet Ocean Tug (ATF)
USS Moctobi (ATF-105)
USS Wenatchee (ATF-118)


Auxiliary Ocean Tug (ATA)
*Numbered ship named in 1955
ATA-205 [USS Sciota]*

---
NOTE: #USS Hughes was listed in the report, but according to the ship's deck log
was crossing the international date line enroute to Japan.
USS Charles F. Hughes was sweeping mines. At 10:27 the ship passed Ashika Light.
At 10:30 the war ended. At 10:44 the ship made preparations for entering the port
and anchored at 12:21 in Tokyo Bay.


#USS Woodcock (ATO-145) is listed in the report, but that ship spent World War II
in Central and South American waters. The ship named Woodcock that was present
was HMS Woodcock, a frigate.

---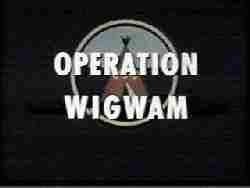 List of Ships at Operation Wigwam, 1955
Total personnel 6,758 including civilians
In 1955, the U.S. Navy fired an underwater atomic weapon to study the effects on
submarine hulls. This time instead of Bikini or Eniwetok, they sailed southwest
of San Diego for Operation Wigwam.
SHIP NAME
USS COMSTOCK (LSD-19)
USS FT MARION (LSD-22)
USS MARION COUNTY (LST-975)
USS MORGAN COUNTY (LST-1048)
USS CREE (ATF-84)
USS MOCTOBI (ATF-105)
USS EITCHITI (ATF-103)
USS TAWASA (ATF-92)
USS RECLAIMER (ARS-42)
USS BOLSTER (ARS-38)
USS CHANTICLEER (ARS-7)
USS BUTTERNUT (AN-9)
USS MT MCKINLEY (AGC-7)
USS CURTISS (AV-4)
USS GEORGE EASTMAN (YAG-39)
USS GRANVILLE S. HALL (YAG-40)
USS MOLALA (ATF-106)
USS WRIGHT (CVL-49)
USS BLUE (DD-744)
USS ALFRED A. CUNNINGHAM (DD-752)
USS FRANK E. EVANS (DDR-754)
USS MCKEAN (DDR-784)
USS WALKE (DD-723)
USS O'BRIEN (DD-725)
USS HARRY E. HUBBARD (DD-748)
USS ERNEST G. SMALL (DDR-838)

---
Crew Search:
Miltary.com
---
Additional Resources and Web Sites of Interest
National Association of Fleet Tug Sailors
---
E-MAIL WEBMASTER

Quapaw / Moctobi Website